The mere mention of Vail, Colorado, brings to mind behemoth mountains and fresh powder sliced by the sharp knife's edge of a ski. The legacy of winter sports in Vail is so engrained that Vail is practically synonymous with skiing. However, there is an entire world of entertainment and activity waiting for you, nestled within the confines of the sleeping giants of the Rockies. No matter the season, Vail has a multitude of outdoor activities to entertain you. So, if you're looking into Vail, Colorado, real estate, read on for all that awaits you in this exciting locale.
Slice the snow: Skiing

We cannot talk about Vail and not address the phenomenal skiing scene. Vail was founded in 1962 by Peter Siebert and Earl Seaton, who purchased the land and build a resort town. They styled the resort after a quaint Alpine Village with the intention of inviting more skiers to their favorite ski hideaway. Today, Vail is synonymous with being one of the best ski destinations in the world.

Whether you're a beginner who needs Gopher Hill, a more experienced Eagle's Nest skier, or one of the daredevils excited to attempt one of the back bowls, Vail has a ski terrain rated just for you.
Take a step where giants have tread: Vail Village

Vail Village is the Alpine resort that was built when the founders established the village of Vail. Visitors can walk the cobblestone pedestrian streets to journey from shop to shop as they sample delectable treats, such as pastries, coffee, ice cream, and candies. If you're a little hungrier, Vail Village hosts some of the most awarded and varied dining scenes around, with restaurants like Larkspur, Matsuhisa, and Root & Flower. After dinner, make sure to fit in some shopping at the boutiques and grab drinks in one of the pubs styled after old-world European architecture.
Get elevated: The Gondolas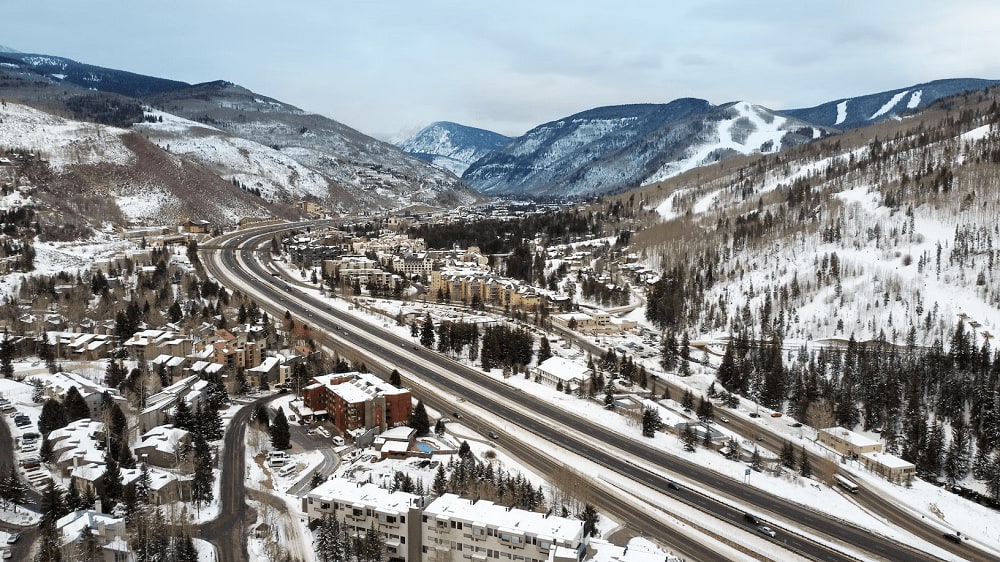 Photo courtesy of Unsplash

When you're ready to take a break from your shopping spree and catch some of the amazing scenic views, take a ride on one of the two captivating gondolas. Vail's Gondola One leaves from Vail Village, while the Eagle Bahn Gondola leaves from Lionhead. Each gondola lifts riders 10,000 feet high to the apex of Vail Mountain, allowing panoramic views of the mountains and valleys below. From your vantage point high in the sky, you'll have a perfect view to snap pictures of snow-capped mountains, flowery meadows, or color-splashed aspens, depending on which time of the year you're taking a ride.
Smell the roses: Betty Ford Alpine Gardens

The Betty Ford Alpine Gardens, named in honor of First Lady Betty Ford, were founded in 1985 by the Vail Alpine Garden Foundation. The garden is split into four areas: a perennial garden, a meditation garden, a rock garden, and a children's garden. You can marvel at more than 3,000 species of plants, both local and exotic. The gardens stretch magnificently throughout 18 impressive acres and are open to the public free of charge from dawn until dusk. There are varied fun activities going on in the gardens, like scavenger hunts and educational tours, so make sure to stop by and check them out. There is a reason this is one of Vail's top tourist destinations.
You can fly: Vail Epic Discovery

Vail Epic Discovery is located in the heart of Lionshead Village and can only be reached by taking the Eagle Bahn Gondola. There is something for everyone at Epic Discovery. At the top of Vail Mountain is a nature discovery center featuring a combination of artifacts and wildlife exhibits. When you're ready to rev things up, you can also try out a climbing wall, an alpine slide coaster, or take a zip line tour of Game Creek. This adventure park is not for the faint of heart, but it is definitely fun for the entire family!
See how high a ball flies in these elevations: Golf

Vail Valley features approximately 17 championship golf courses scattered among the hills in verdant pockets of grassy oases. Amongst these courses are hidden some of the most top-rated golf courses in the nation. Beaver Creek Golf Club, tucked away on Beaver Creek Mountain, was designed by Robert Trent Jones and was voted one of the top 100 golf courses in the country. EagleVail Golf Club features rolling hills, challenging turns, and amazing scenery everywhere you look. No matter which course you choose, you will experience a high-quality course in a beautiful valley that is known for enjoyable high-altitude golf.
A storybook sunset: Horseback riding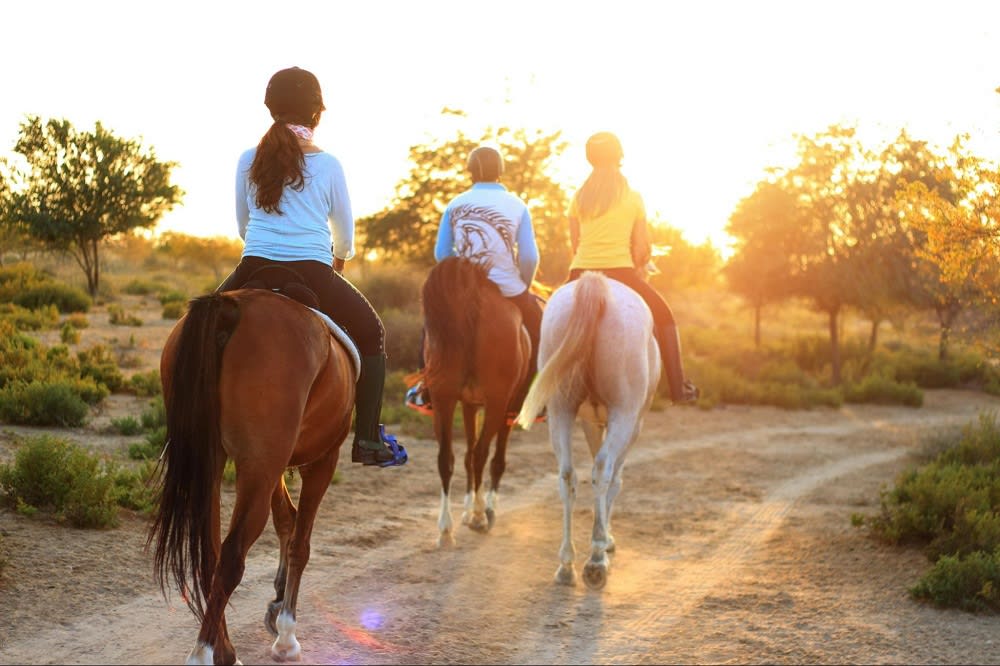 Photo courtesy of Unsplash

One of the more private and romantic ways to see more of Vail Valley is to take a horseback riding tour. There are several private services offering guided horseback riding tours throughout the mountains and valleys surrounding Vail. These services are run by experienced guides and wranglers who are local experts excited to show off the local flora and fauna. You can even schedule a storybook wintertime sleigh ride in Wolcott!
Take an extreme ride on the rapids: Watersports

For thrill-seekers, Vail even offers watersports! You can learn how to kayak in Vail's Whitewater Park or book a white-water rafting trip on the Colorado, Eagle, or Arkansas Rivers. If you are looking for a more relaxing way to pass your time, Colorado's rivers and streams are some of the most serene spots for fishing in the whole country. Where else can you find such beautiful fly fishing and ice fishing in one place?
Leave the beaten path: Off-road tours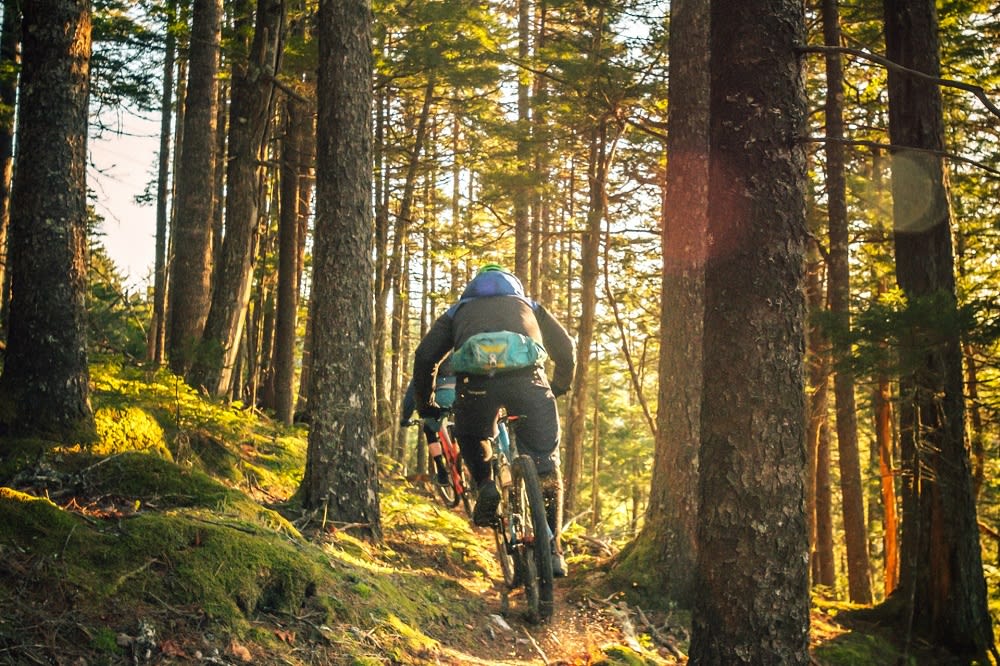 Photo courtesy of Unsplash

One of the incredibly exciting ways to see Vail Valley is to go on a guided off-roading excursion. You can rent all-terrain vehicles, off-highway vehicles, or bikes and follow your own path down the many trails that zigzag across the valley. If you'd prefer someone else take the wheel, you can take it easy and enjoy the ride while one of Vail's experienced guides does the navigating for you!
Time to head out!

Vail is one of the most beautiful destinations you could seek for outdoor entertainment. Whether you're looking to relax or satisfy your inner adrenaline fiend, there is a multitude of options to satisfy your cravings for fresh air and outdoor adventure. Many people who come to Vail wish they never had to leave!
If that's where you're at right now, wishing you could visit Vail and never leave, then why aren't you seeking
homes for sale in Vail
? Imagine waking up every morning to Vail Valley unfolding around you. Vail, Colorado, real estate allows you the opportunity to live in a place where your dreams, whatever they may be, are right outside your doorstep. You could snap up one of the luxury homes for sale in Vail, CO, and every day could be filled with possibility and adventure! If you'd like to know more, contact
the Vail Luxe Group
today.

*Header photo courtesy of Unsplash