Vail is an exciting and adventurous destination. Everywhere you look, beautiful mountain vistas and adventurous expeditions beckon you to create new memories. If you're not interested in thrill-seeking, skiing, or whitewater rafting, Vail Village waits to unfurl its numerous boutiques, spas, gardens, and eateries for your delight. Anything you could crave is available in Vail. From coffee shops to world-famous sushi, the food options are elevated to an entirely new level. Do not be concerned if you forget to make reservations, though. Vail has numerous eat-in and take-out hotspots for spontaneous dining, all within minutes of Vail Village.
Cucina Rústica

174 Gore Creek Dr, Vail, CO 81657
Big things are happening in Vail, and everyone knows you cannot move mountains on an empty stomach. Start your day sweetly with one of Vail Valley's favorite breakfast and brunch spots, Cucina Rústica at The Lodge at Vail. Cucina echoes the same rustic American vibes as The Lodge itself, and its menu is a culmination of seasonal offerings. You can expect to find hot, specialty coffees, luscious organic fruits and vegetables, and a variety of hot, perfectly prepared breakfast dishes served to please your appetite and get your day started on the right foot. Don't miss your chance to sit around the outdoor fire pit and enjoy the gorgeous Vail weather.
Big Bear Bistro

297 Hanson Ranch Road, Vail, CO 81657
Big Bear Bistro is an adorable, laidback brunch spot offering gourmet sandwiches, salads, seasonal fruits, and fresh organic bread baked daily. They also offer après-ski snacks, beers, and wines. Their outdoor dining area is a perfect spot to sit and people-watch or listen to the Vail Village Fountain. With crepes large enough to feed two people, you'll be ready to take on a full day of shopping or sightseeing after your stop at this darling bistro.
The Blü Cow

304 Bridge St, Vail, CO 81657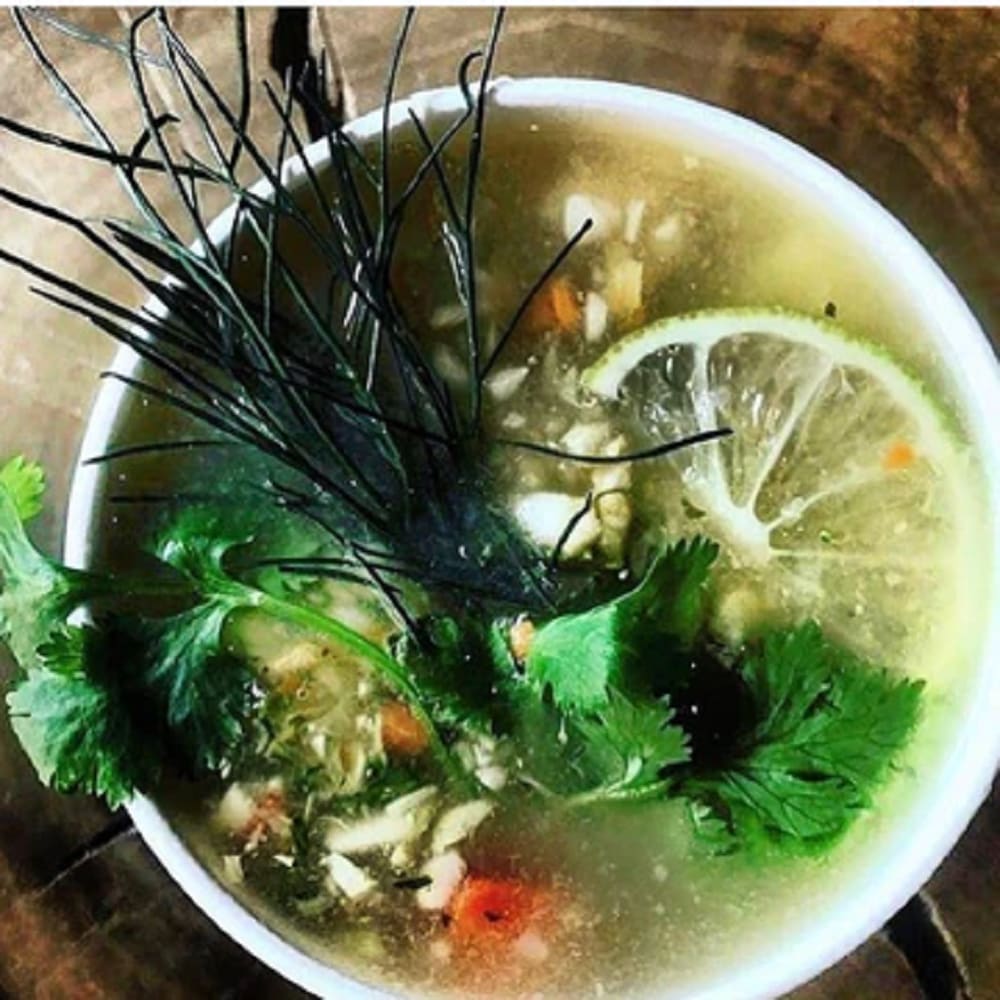 Photo courtesy of The Blü Cow
The Blü Cow has been a staple in Vail since 1967 when original owners Ernst and Barbra Larese had the brilliant idea to open a Swiss hot dog shop in their new home of Vail. Ernst had lived a storied life, moving across the world from Italy to Austria, fighting in Africa, and finally meeting his wife in Australia. Having grown up in Salzburg, he moved to Vail following the allure of epic skiing, and the idea of opening a Swiss hot dog shop was a natural progression for him when he realized the burgeoning resort town did not have a hot dog stand. Today, his daughter Simone owns a second The Blü Cow, both of which serve up a stellar menu, including their world-famous hotdogs, beignets, sandwiches, and fan-favorite hot chocolate creations. You have to make time to grab some of these incredible treats!
Annapurna Nepali & Indian Cuisine

250 S Frontage Rd W, Vail, CO 81657
Annapurna is touted as one of the best-kept secrets in Vail. A local favorite for Nepalese, Himalayan, and Indian cuisine, their massive menu combines elegant and exotic spices reminiscent of the culture of Nepal. You will be excited by the phenomenal flavor combinations no matter which items you choose to order. The views from Annapurna are breathtaking, and the staff is knowledgeable and pleasant. If you're looking for a splash of Nepalese Indian fusion in Vail, Annapurna is a must!
Fall Line

232 Bridge St, Vail, CO 81657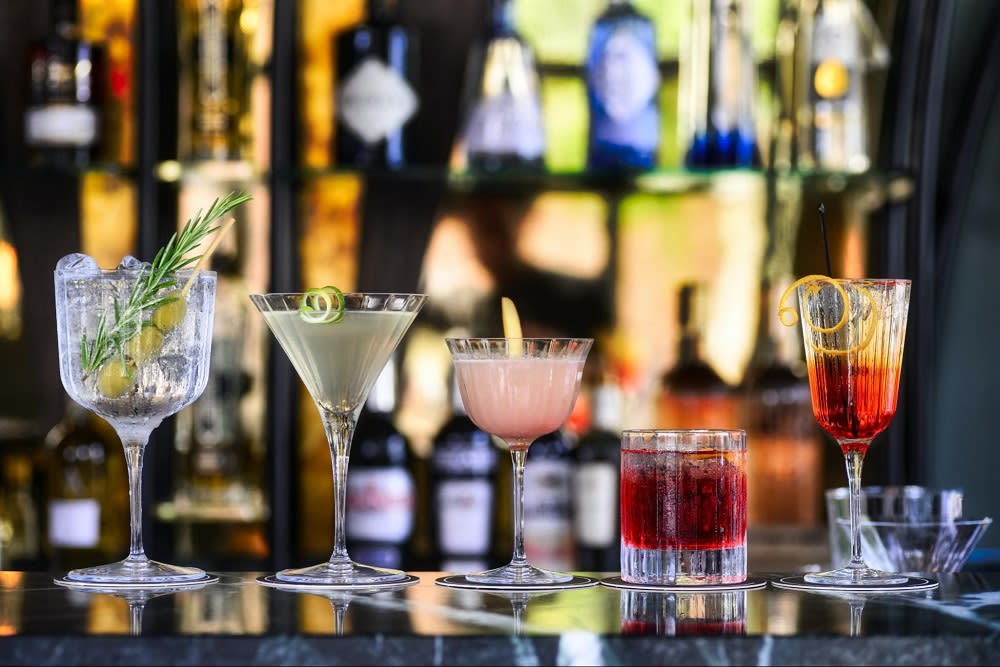 Photo courtesy of Unsplash
Fall Line Kitchen and Cocktails is located in the heart of Vail Village and offers a touch of nostalgic 1960s decor with a delectable and generous contemporary menu. You'll find a slight Asian influence on their menu, but the real treat comes in an impressive, imaginative cocktail selection. While reservations are suggested, they're not required, allowing you to visit anytime and experience their generous servings of exquisite cuisine. Sit outside and enjoy the delicious food portions, or cozy up to the retro bar and indulge in one of their many exquisite drinks.
Red Lion Inn

304 Bridge Street, Vail, CO 81657
The Red Lion Inn was built in 1962 to be an actual inn. Its old-world pub aesthetic helped it to quickly become a hotspot for meetings and dining, even though the original plans for being an inn didn't quite work out. Over the years, the popularity of the Red Lion Inn grew until its reputation of hospitality, a warm, fun atmosphere, and exceptional food solidified the Red Lion's position in Vail's history. If you're looking for casual dining with a fantastic, family-friendly pub atmosphere, the Red Lion Inn is a perfect choice.
Matsuhisa

141 E Meadow Dr, Vail, CO 81657
As another top-notch dining destination, rustic and refined Matsuhisa offers exquisite Japanese cuisine and seafood with stunning views of Vail Mountain. With creative selections from Chef Nobu Matsuhisa, diners can look forward to sushi bar starters like tuna tataki, spicy tuna with crispy rice, or soft shell crab spring rolls. Matsuhisa specialties like wasabi pepper shrimp, squid pasta, lamb chops, and yellowtail tataki are sure to leave you smiling. Pair your excellent meal with soba noodle soup, Alaskan King Crab rolls, or mochi ice cream for dessert. Matsuhisa offers a full menu available at the bar, and it's a great spot to catch a phenomenal meal after the apres skiers clear out in the evening.
Four Seasons

1 Vail Rd, Vail, CO 81657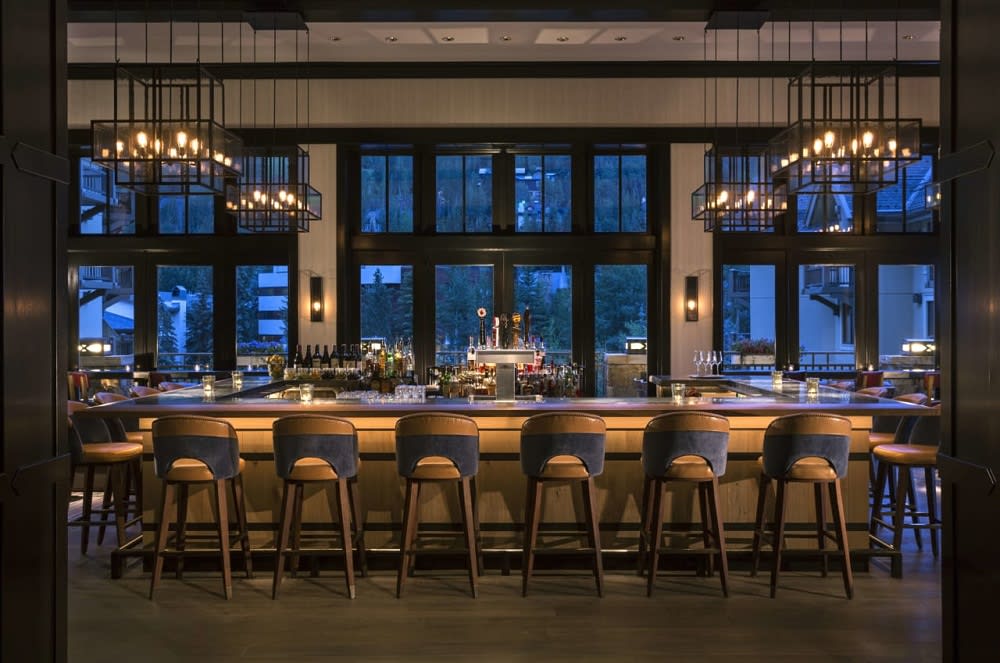 Photo courtesy of Four Seasons

The Four Seasons is a beacon of luxury within Vail Village. It also tucks away some incredible dining options that must be considered. While the Four Seasons' main steakhouse restaurant, Flame, requires a reservation, you have several other options for great food. Bean & Gone is a coffee shop selling coffee and pastries, and it is perfect for breakfast or a quick pick-me-up. For luxury relaxation around the fire, visit The Remedy Bar, the in-house bar and grill. The bar offers the solitude of outdoor firepits or an indoor fireplace set with comfortable, elegant couches and chairs to watch the game on one of the large-screen televisions. Of course, visitors to the Four Seasons can take advantage of the pool bar and the delectable menu offered for in-room dining. What's better than eating a delectable meal on your private balcony overlooking the mountain panoramas?
What is on the menu for you?
No matter how you choose to spend your time in Vail, there is a perfect dining spot for your pleasure. So many different styles of restaurants with varied cuisines are packed into Vail Village that you'll likely have difficulties choosing where you wish to eat every day. Of course, you could make your visit permanent.
Vail, Colorado, real estate
is just as exciting and varied as the dining options. For more information on homes for sale in Vail, CO, or to inquire about a move to this incredible area, contact
the Vail Luxe Group
today!

*Header photo courtesy of Unsplash